Workshop Presenters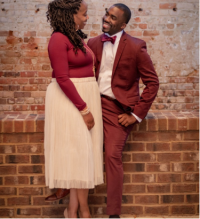 Revs. Hayward and Starlette Jean


Hayward and Starlette Jean have been married for 16 years. The couple met at Claflin University in 2003. They were married on October 22, 2005 in Hartsville, SC.
The couple led The Feast of the Lord's church marriage ministry for 15 years. During this joyful time of ministry, the couple coordinated several Marriage Seminars, Marriage Conferences and Marriage Retreats. The Jeans also hosted monthly marriage ministry nights that consist of team building, guest speakers and a time of sharing for the purpose of uplifting married couples. Hayward and Starlette also served as the lead pre-marital and marriage counselors at the church for over a decade.
The couple began sharing Marriage Ministry wisdom during social media seminars and video messages entitled, The Power Cord Marriage through Speak Life Enterprises. The Jeans travel nationally, hosting and facilitating marriage retreats and marriage conferences, because they believe one of the greatest ways to impact the world is to impact the families. Marriage is the foundation of the family.
As award-winning educators, Hayward and Starlette are passionate about building families. As a Student Service Director for Orangeburg County Schools, Hayward leads a school community that has become a source of inspiration and hope in the community. Hayward authored a book entitled, Weapons of Mass Distraction: Dismantling the Negative Influence of Hip Hop Music on Our Youth. As a motivational speaker, Hayward is the founder and president of Speak Life Enterprises, a speaking organization that empowers communities and organizations all over the country. Starlette is a school leader in the Orangeburg County School District serving as a Reading Interventionist. Starlette is the founder and balloon stylist of Make it a B.A.S.H., LLC (Balloon Arrangements by Star's Hands). She aims to deliver balloon joy from private to corporate celebrations.
Both Hayward and Starlette serve as ministers and youth advocates in the community.
The couple co-authored a marriage prayer journal entitled, "The Power Cord 40-day Prayer Journal for your Marriage Prayer Journey".
The couple resides in Orangeburg, SC, and they are the parents of three beautiful children, Micah, Malachi, and Imani.
The theme of their marriage union and ministry is, "United We Stand: Better Together!"
REGISTRATION FORM FOR CASH-APP AND MAIL-IN PAYMENTS