Assistant Pastor Dr. James A. Jamison
Assistant Pastor
BIOGRAPHICAL SKETCH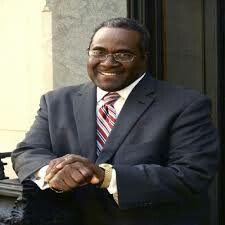 Reverend James A. Jamison, is a native of Cayce, South Carolina. He attended the public schools of Lexington School District #2. He is a graduate of Brookland-Cayce High School. Prior to his graduation Reverend Jamison received and accepted the call to the gospel ministry.
Upon graduation, he entered Benedict College in Columbia, South Carolina and received a Bachelor of Arts Degree in Religion and Philosophy; he graduated with the highest average in Religion and Philosophy and was a member of the National Deans List. He was named in the 1987 and 1989 Editions of Outstanding Young Men of America.
He pursued seminary studies at Morehouse School of Religion of the Interdenominational Theological Center in Atlanta, Georgia and received a Master of Divinity Degree (M.Div.) in 1990; in May of 2014, Reverend Jamison earned a Master of Sacred Theology from the Lutheran Theological Southern Seminary in Columbia, South Carolina. Reverend Jamison completed one certified year of residency in Clinical Pastoral Education at the Columbia Area Academy in 1991. Reverend Jamison received his Doctor of Ministry Degree at Garrett Evangelical Theological Seminary in Evanston Illinois, May 2019 where he was awarded the Styberg Preaching award for the best Dissertation.
Reverend Jamison has preached and taught abroad. In 1989 he was invited to do research in African and Europe in the following countries; Rome, Egypt, Sudan, Ethiopia, and Kenya. In June of 1994, he participated in the Kenya Partnership as preacher, teacher and group leader. In 2007 Reverend Jamison traveled to Liberia, West Africa on a preaching and mission trip. He is also in demand as a lecturer, and teacher on the State and District level. He is a member of the faculty of the State Congress of Christian Education and recently served as the director of the minister's division. Reverend Jamison has served the Gethsemane Congress of Christian Education in several capacities: instructor, dean, and president as well as the former Commissioner of Education with the Gethsemane Congress of Christian Education. He has also served as Dean of the Gold Hill Association in Forest City, North Carolina, and as an instructor for the Southern Region of the Progressive National Baptist Convention.
In addition to being a graduate of Benedict College, he has had the distinguished honor of serving as a former instructor of religion. He now serves as an instructor of religion at Morris College where he was selected for "Who's Who among America's Teachers" 2003-2004. He has also taught at Claflin University. He now serves as a peer group facilitator for the Styberg Preaching Institute.
Reverend Jamison is the former pastor of Oak Grove Baptist Church of Forest City, North Carolina, Hall Hill Baptist Church of Pelion, South Carolina and New Hope Baptist Church of Crawfordville, Georgia, and is currently the Assistant Pastor at the Brookland Baptist Church in West Columbia, South Carolina. He is married to the former Marilyn Garvin.